Britney Spears has taken aim at her mother in a scathing Instagram post, as her father seeks to have her conservatorship terminated.
In the since-deleted message shared on the social media site, the pop star accused her mum, Lynne, of being the one who gave her dad, Jamie, "the idea" of a conservatorship 13 years ago. 
The 39-year-old began her post by sharing a quote that read, "The most dangerous animal in the world is a silent smiling woman." But it was in the accompanying caption where Britney spoke her mind.
READ MORE: Ben Fordham breaks down while announcing Cleo Smith rescue
"The moment I SMILE 😁 and I realize I haven't in a very long time !!!! My mom gets so CONCERNED and says 'You're acting weird … what's wrong with you ???' I say 'Hi, my name is Britney Spears … nice to finally meet you !!!'" Britney began.
"Before I go any further, forgive me in advance …. It's been 13 years and I'm a little rusty 💁🏼‍♀️ !!!! It was a family business before … it's no longer that anymore !!!! I was BORN today cause I get to SMILE … so thank you for exiting out of my life and finally allowing me to live mine !!!! Psssss do I know how mean I sound ??? Yes … I 100 billion percent I do 💯👍🏼🤷🏼‍♀️ !!!!"
READ MORE: Lawyer says Baldwin's gun was not assistant director's responsibility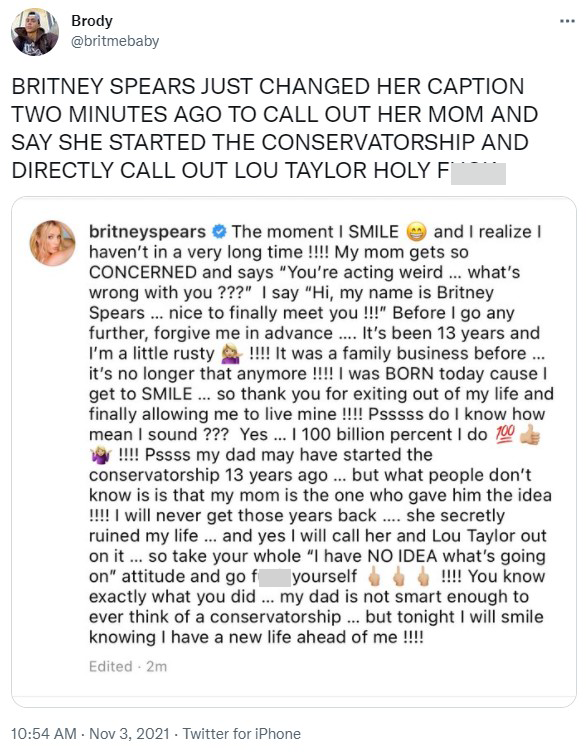 It was then she accused Lynne of planting the conservatorship seed in her dad's mind following her 2008 breakdown, and as a result "ruined" her life. 
"[She] may have started the conservatorship 13 years ago … but what people don't know is is that my mom is the one who gave him the idea !!!!" Britney claimed, before also calling out her former manager Lou Taylor.
"I will never get those years back …. she secretly ruined my life … and yes I will call her and Lou Taylor out on it … so take your whole 'I have NO IDEA what's going on' attitude and go f–k yourself 🖕🏼🖕🏼🖕🏼 !!!! You know exactly what you did … my dad is not smart enough to ever think of a conservatorship … but tonight I will smile knowing I have a new life ahead of me !!!!"
Meanwhile, Jamie has filed a request on November 1 to 'immediately terminate' his daughter's conservatorship as he has "no interest" in being at the helm anymore. 
READ MORE: Woman records creepy gym act in TikTok video
"Britney's recent testimony and requests to take personal control of her estate and affairs have made clear that continuing the Conservatorship is contrary to her desires," Jamie's attorney Alex Weingarten wrote in court documents filed on November 1 and cited by People. 
"Jamie sees no reason why the Conservatorship should continue for any amount of time and asserts he has no interest in the Conservatorship continuing."
For a daily dose of 9Honey, subscribe to our newsletter here.