Elizabeth Hurley has hit back at Piers Morgan after he criticised the model's latest Instagram photo.
After images of the 55-year-old went viral yesterday, in which she posed topless under a fur coat paired with bikini bottoms, Morgan felt the need to weigh in.
"Yeah, she looks fabulous, but what are you doing Liz? A bit of snow and you get your kit off," he said today on his breakfast show Good Morning Britain.
"And who took the pictures? Your 18-year-old son, you said, took the pictures? Isn't that creepy? What is all this! It's what we call in the business 'thirsty and creepy.'"
During the Good Morning Britain broadcast, Morgan's co-host Susanna Reid came to Hurley's defence. 
"You can't accuse other people of being thirsty when you're on national television and you have at least two columns and you're on every single podcast," Reid countered.
https://twitter.com/ElizabethHurley/status/1354120442446012419
Unbothered by the criticism, Hurley simply set the record straight on Twitter.
"Far be it for me to suggest the tabloids get their facts muddled, but these pics were in fact taken by my 80-year-old mother. Not entirely sure if that puts minds at rest or not," she tweeted on January 27.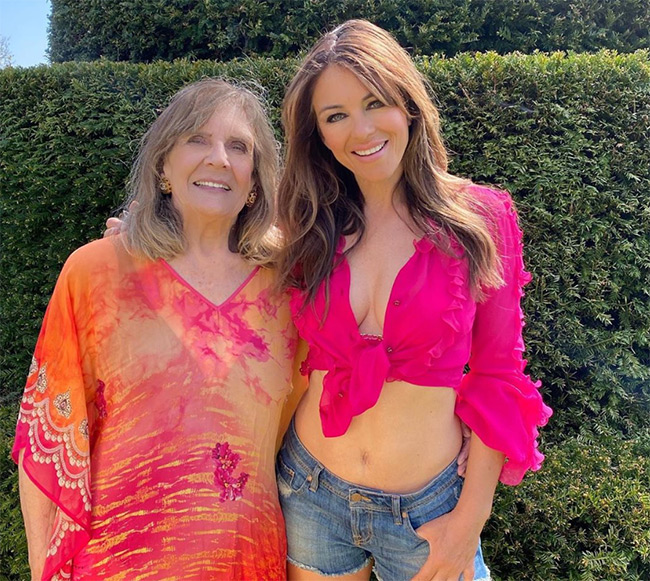 In an interview with Watch What Happens Live back in 2018, Hurley admitted that she occasionally asks her 18-year-old son Damian to take her bikini photos. 
"He doesn't take all my bikini photos. Some of them are professional, some of them are by my sister. If we had a camera right now I would say 'Hey Andy, take my picture,'" Hurley told host Andy Cohen. 
"But if we are on holiday together, sure he will take some pictures. He has a really good eye, he's studying photography."