Kendall Jenner has been slammed online after the reality star shared a "tone deaf" post on Instagram following Travis Scott's Astroworld festival, which saw eight people killed in a deadly crowd surge.
The model, 26, uploaded two photos of herself standing behind the stage at the concert in Houston, Texas, captioning the post: "Will you be at the mountain?"
After news emerged eight people had died in the tragedy, Jenner simply updated her picture caption with a mountain emoji.
READ MORE: Prince Harry urged to axe $182.5 million Netflix deal
READ MORE: Travis Scott and Kylie Jenner speak out after Astroworld Festival tragedy
Jenner's Instagram followers noticed the small caption change and blasted the KUWTK star for posing in front of a stage where people had been killed.
"8 people died at the concert … this pic is tone-deaf," one incensed Instagram user wrote.
"Yeah, take a photo in front of the stage where people died. Really classy," another said.
One user added: "Shouldn't you take your good times stories from last night down? Eight people die."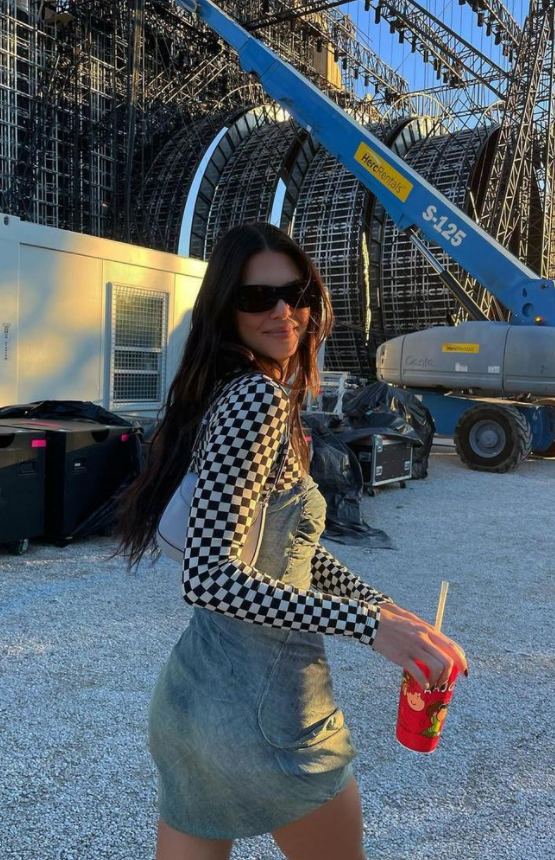 READ MORE: Wicked fans petition to keep James Corden out of film adaptation
Following the outrage, Jenner deleted her original post and shared an emotional message on her Instagram Story.
"I'm still at a loss for words over the news from Astroworld. I'm truly broken for the families that have lost loved ones and my prayers go out to everyone involved," she wrote.
"Sending everyone who has been affected all of my love and wishing them strength during this incredibly devastating and sensitive time."
Eight concertgoers were killed and thirteen remain hospitalised after the Astroworld tragedy on Friday night, while more than 300 people were treated on-site for injuries.
Fans were crushed against the stage during Scott's set and reports suggest the concert continued for nearly an hour after audience members appeared to be in distress.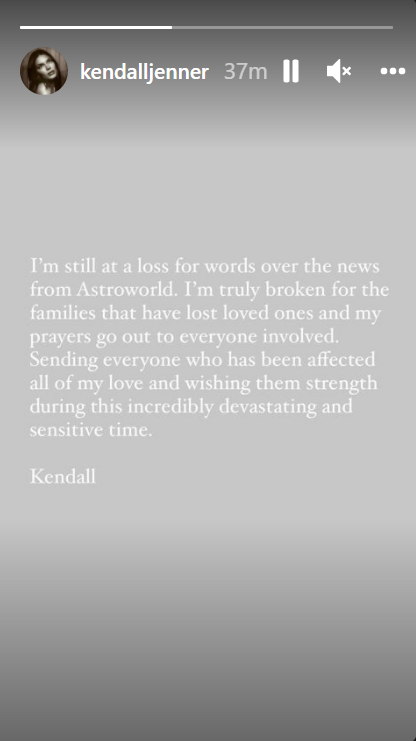 READ MORE: All the best deals on offer during Click Frenzy 2021
Scott's partner and Kendall's sister, Kylie Jenner, also faced widespread criticism after sharing videos from the concert on social media.
"Travis and I are broken and devastated. My thoughts and prayers are with all who lost their lives, were injured or affected in anyway by yesterday's events," Kylie wrote on her Instagram Story.
"And also for Travis who I know cares deeply for his fans and the Houston community."
The beauty mogul continued: "I want to make it clear we weren't aware of any fatalities until the news came out after the show and in no world would have continued filming or performing."
"I am sending my deepest condolences to all the families during this difficult time and will be praying for the healing of everyone who has been impacted."
For a daily dose of 9Honey, subscribe to our newsletter here.