Will Smith and Jada Pinkett Smith have one of the long-standing marriages in Hollywood, but their union has had more ups and downs than a movie plotline.
The couple began their relationship under controversial circumstances as Will was reportedly still married at the time, and the rest of their union has been plagued with rumours of breakups, makeups and an open marriage.
Let's revisit the highs and lows of their relationship.
READ MORE: Kardashians fear Kanye 'meltdown' over Kim's new romance
1994: Will and Jada meet when she auditions to play his onscreen girlfriend on his sitcom, The Fresh Prince of Bel-Air. Unfortunately, she doesn't get the part and actress Nia Long is cast as Beulah 'Lisa' Wilkes on the show. 
"The first time I met you was at the Fresh Prince audition. I think I was 19, and [producers] told me I was too short," Jada would later recall on an episode of her Facebook series, Red Table Talk.
Will later reveals he became attracted to Jada soon after first meeting when seeing her on the TV series, A Different World. While at the time, he is still married to Sheree actress and producer Sheree Zampino — the mother of his eldest child, Trey, now 28 — Will is adamant Jada is the one for him. 
It is in a restaurant bathroom stall while on a dinner date with Sheree that he knew he needed to end his marriage. 
"I had a realisation I wasn't with the person I was supposed to be with," he later recalls in 2018 on Red Table Talk. "I was sitting in a stall and I was crying and laughing uncontrollably, and I knew [Jada] was the woman I was supposed to be with."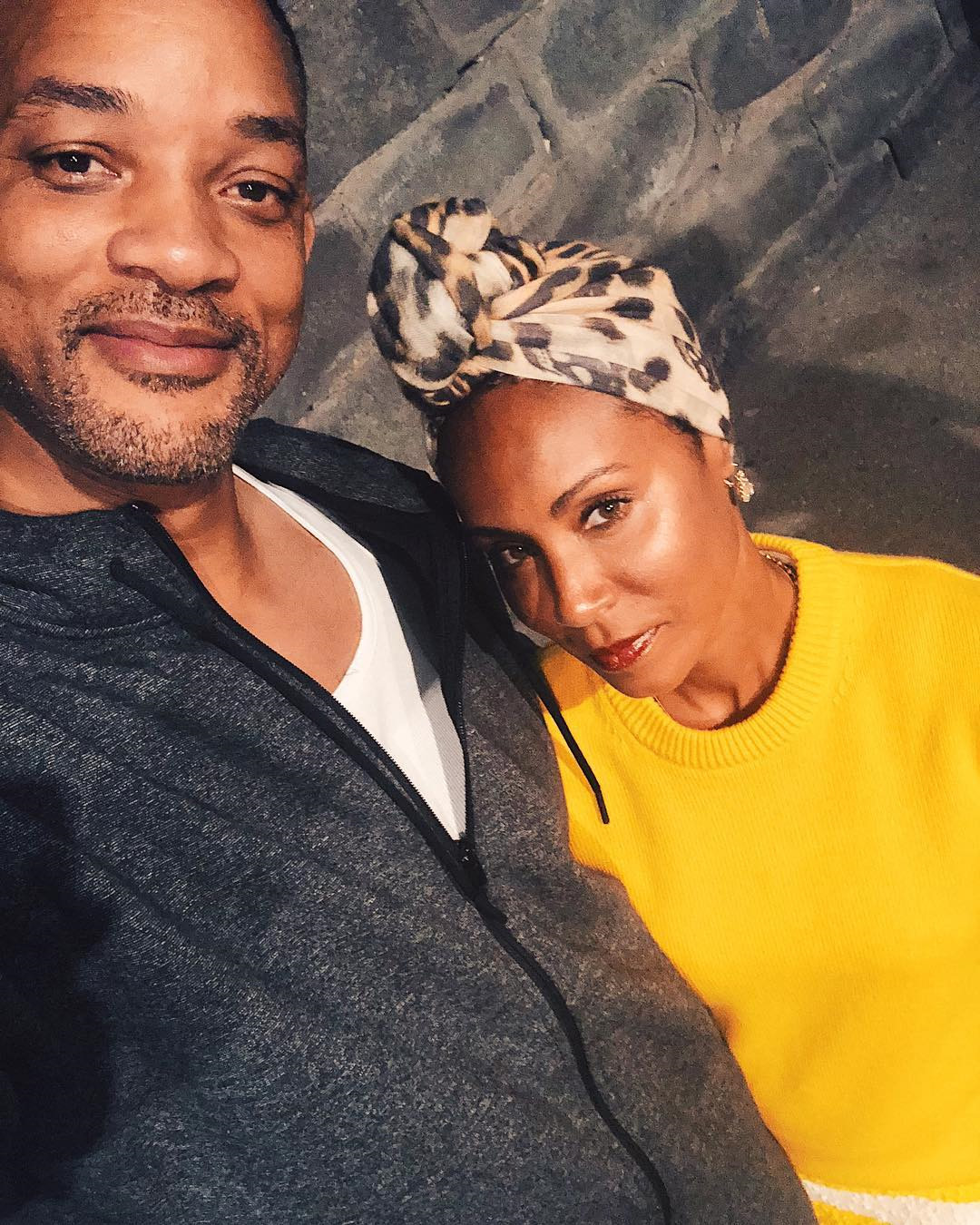 1995: With Jada's feelings for the actor just as strong, the pair start dating. Jada has since expressed her regret over beginning a relationship with Will while he was still married to Sheree. 
The exes' three-year marriage official ends later that year when they finalise their divorce.
"Because I did not understand marriage, I did not understand divorce," Jada later admits in 2018 on the premiere episode of Red Table Talk, in which Sheree was her first-ever guest. "I probably should have fell back."
1997: The actor proposes to Jada in November 1997 and they secretly marry one month later on New Year's Eve in her native Baltimore in Maryland. The bride wears a champagne-coloured velvet gown designed by Badgley Mischka.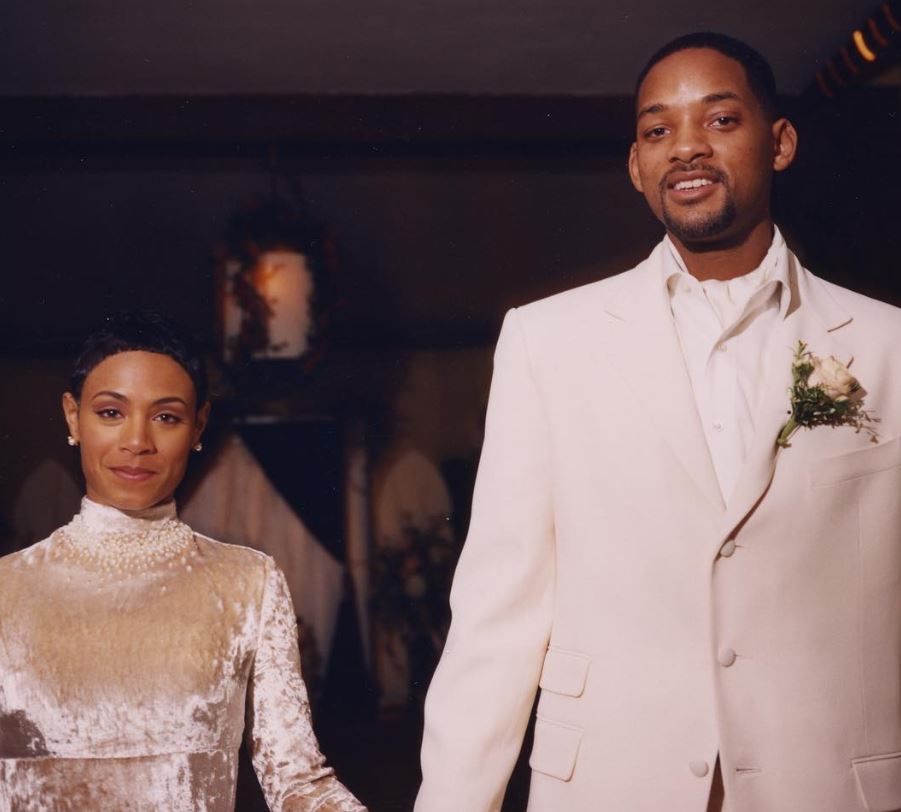 Jada — who at the time is pregnant with the couple's first child —  later reveals she never wanted to get married.
"I was under so much pressure being a young actress and pregnant, and I didn't know what to do," she reveals years later on her Facebook series.  "I was so upset that I had to have a wedding. I was so pissed."
https://twitter.com/jadapsmith/status/237253783422398465?ref_src=twsrc%5Etfw%7Ctwcamp%5Etweetembed%7Ctwterm%5E237253783422398465%7Ctwgr%5E%7Ctwcon%5Es1_&ref_url=https%3A%2F%2Fwww.brides.com%2Fembed%3Furl%3Dhttps3A2F2Ftwitter.com2Fjadapsmith2Fstatus2F237253783422398465id%3Dmntl-sc-block_1-0-19-iframeoptions%3DeyJpbnN0YWdyYW0iOnsiaGlkZWNhcHRpb24iOiJ0cnVlIn19docId%3D5190764
1998: In July that year, Will and Jada welcome their first child together, son Jaden Christopher Syre Smith, now 23. 
"After my first trimester … being pregnant with you were some of the happiest moments of my life," Pinkett Smith wrote in a Facebook video for Jaden's 21st birthday two years ago.
"You were a tangible joy. When you were born, you became my first experience of tangible love. You have taught me so much about love and kindness. You have been a powerful teacher in my life. I feel so blessed you chose me to be your mom. Happy 21st to one of my dearest treasures. I love you Jaden."
READ MORE: Husband's brutal complaint about lunches his wife packs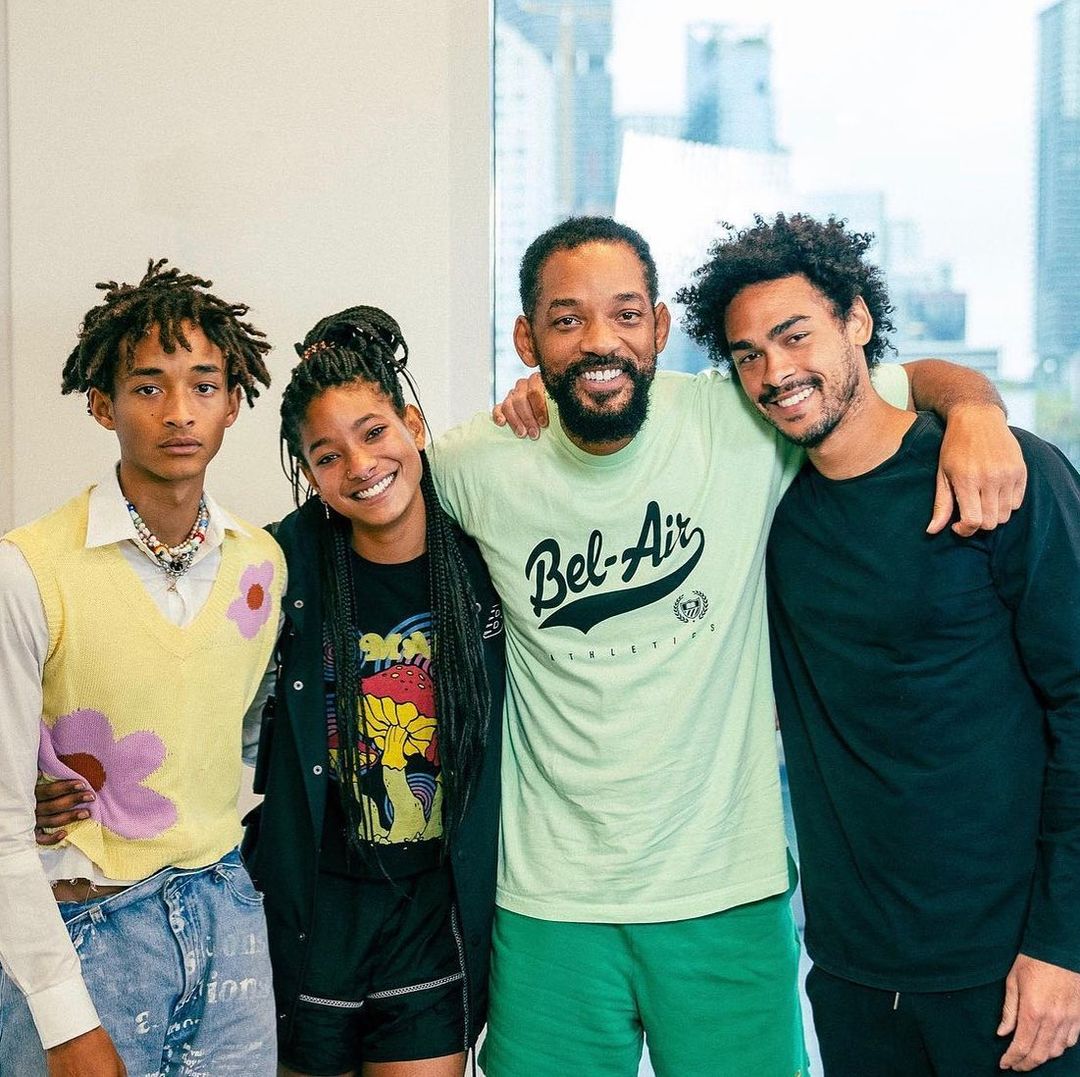 2000: Will and Jada welcome their second child, Willow Camille Reign Smith.
The proud dad says it is his only relationship with a female that he has maintained. 
"Willow's the only female relationship I've ever had that I didn't mess up," he shares one decade later on Red Table Talk. "I'm sure there are aspects from Willow's point of view [where] she would say, 'No, you messed some stuff up, dad,' but in my mind, I did right by her."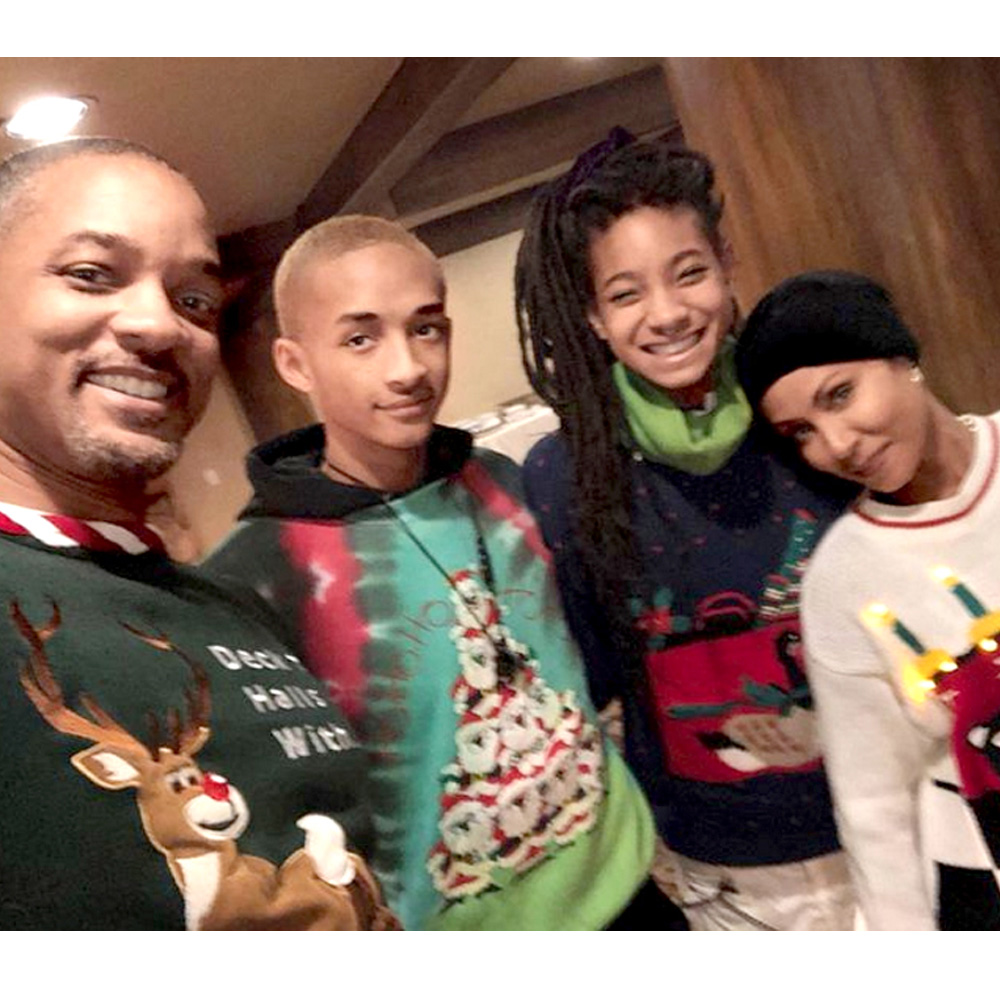 2013: Although Will and Jada have never starred in a movie together, they continue to work on their careers over the years. But in 2013, it's their marriage that's placed under scrutiny when it is rumoured the Hollywood couple have an open marriage. 
"I think that people get that idea because Will and I are very relaxed with one another," she tells HuffPost a the time. "But I've always told Will: 'You can do whatever you want as long as you can look at yourself in the mirror and be OK.' Because at the end of the day, Will is his own man. I'm here as his partner, but he is his own man. He has to decide who he wants to be and that's not for me to do for him. Or vice versa."
The couple also deny persistent rumours they are swingers.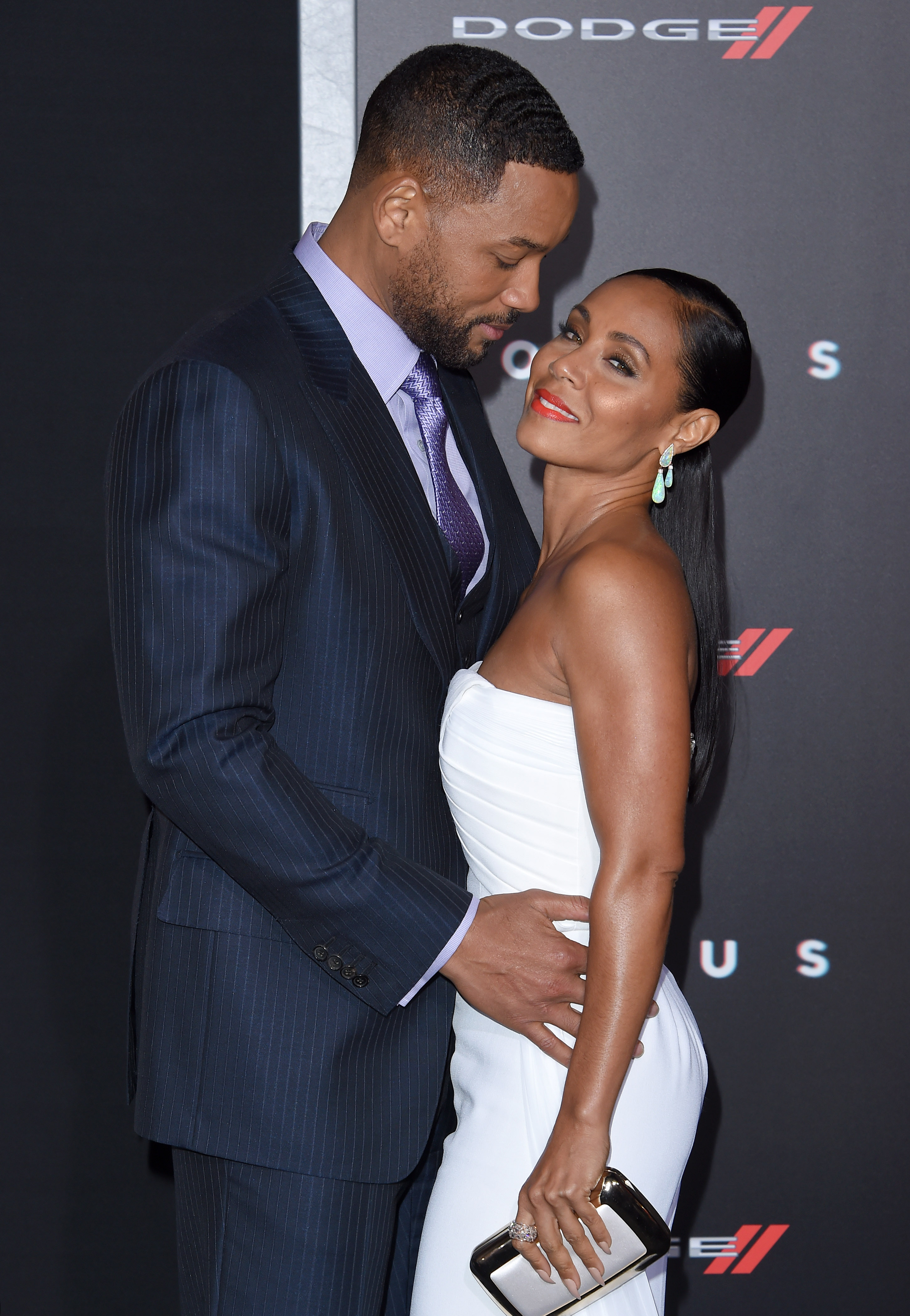 READ MORE: Patrick was a healthy baby, now the toddler has long-term brain damage
2015: Whispers of a split grow louder and a fed-up Will takes to Facebook to put them to bed. 
"Under normal circumstances, I don't usually respond to foolishness (Because it's contagious). But, so many people have extended me their 'deepest condolences' that I figured – 'What the hell… I can be foolish, too!'" he writes on the social media platform "So, in the interest of redundant, repetitious, over & over-again-ness… Jada and I are… NOT GETTING A DIVORCE!!!!!!!!!!!!!"
Five years later, the couple reveals they did actually split briefly in 2015, during which Jada entered a brief "entanglement" with singer August Alsina, now 29.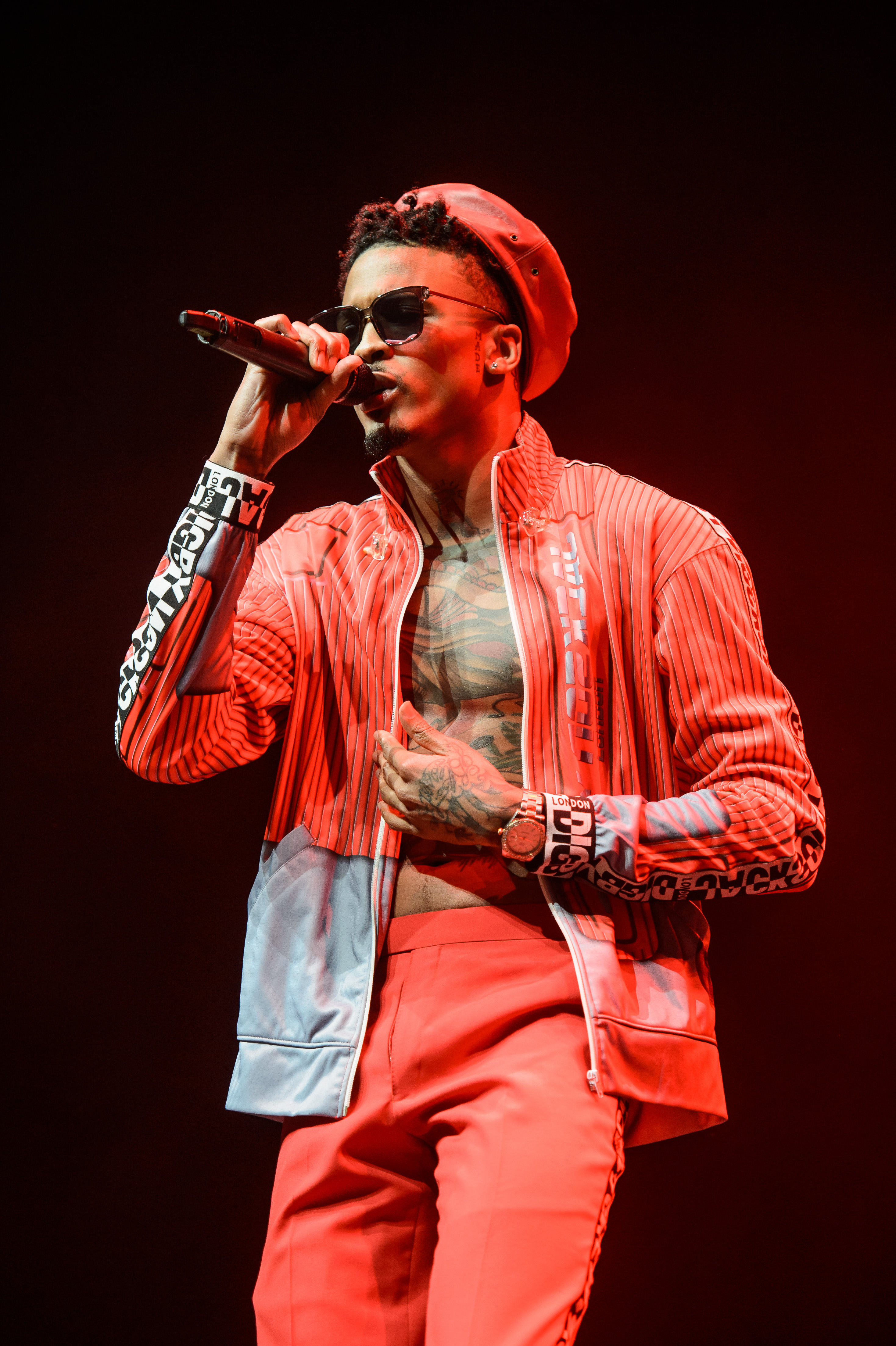 While to the public, Will and Jada are still married, behind the scenes they work on their issues and decide to reconcile. 
"Because I had been divorced before, I wasn't getting divorced again. Divorce wasn't an option," he later explains. "I was devastated even worse than a divorce. We broke up within our marriage and got back together again. We had to rebuild with new rules and something way, completely different."
2018: Will again raises eyebrows as to their marital status when he tells Tidal's Rap Radar podcast that he and Jada do not say they are "married anymore".
"We don't even say we're married anymore," he confirms. "We refer to ourselves as life partners, where you get into that space where you realise you are literally with somebody for the rest of your life. There's no deal breakers. There's nothing she could do — ever. Nothing that would break our relationship. She has my support till death and it feels so good to get to that space."
2020: August Alsina claims in YouTube interview he had an affair with Jada and Will gave his blessing. 
"I actually sat down with Will and had a conversation … He gave me his blessing," August tells The Breakfast Club host Angela Yee. 
"And I totally gave myself to that relationship for years of my life, and I truly and really, really, deeply loved and have a ton of love for her. I devoted myself to it. I gave my full self to it. So much so that I can die right now, and be OK with knowing that I fully gave myself to somebody … And some people never get that in this lifetime."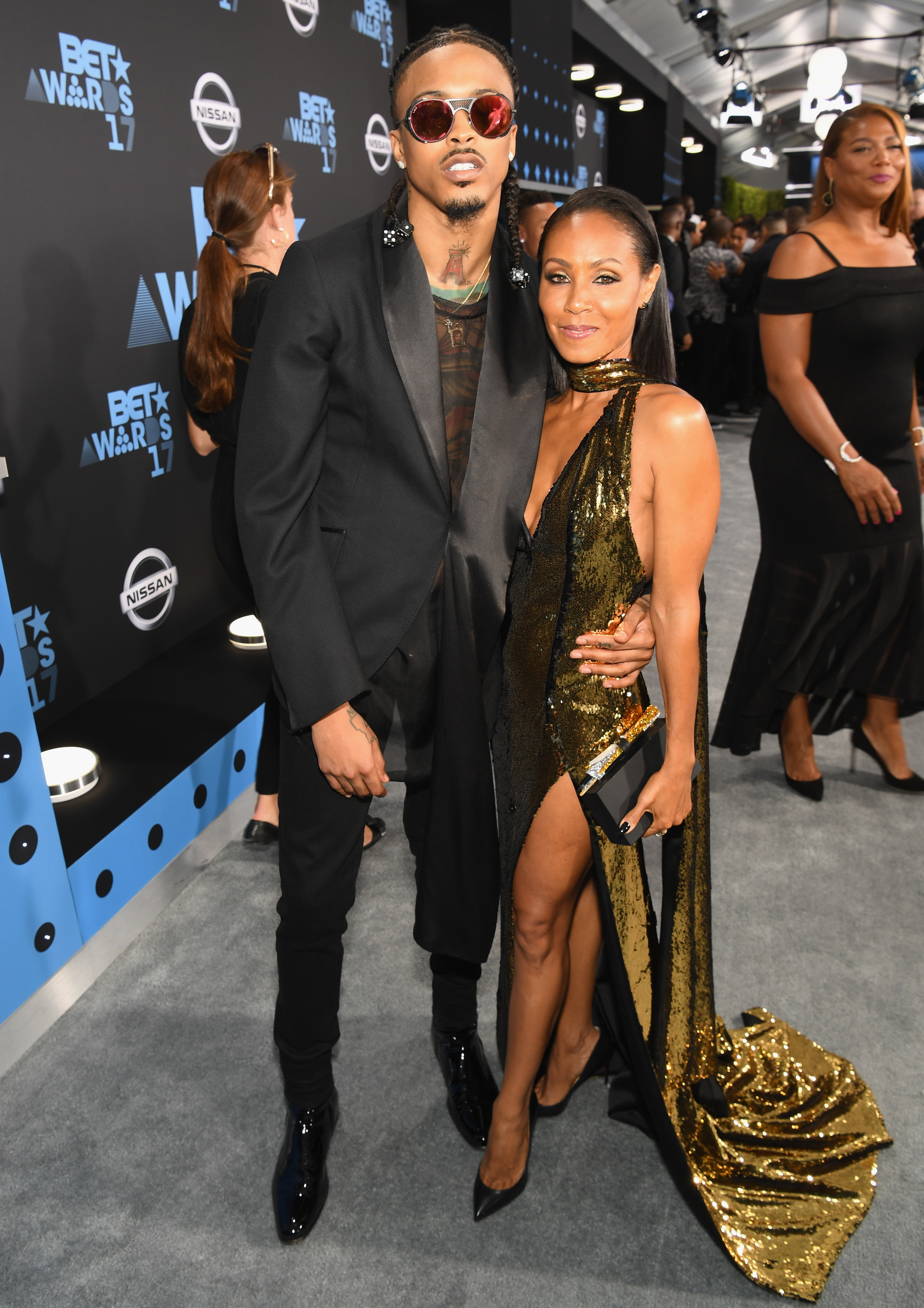 The pair first met at her kids Jaden and Willow's joint gig at the Wireless Festival in London that year and became fast friends. After August's big reveal, Jada confirms the relationship did happen, although she denies claims Will knew of the romance. 
"About four years ago, [I] started a friendship with August. And we actually became really, really good friends. And it all started with him just needing some help," she explains in an honest one-on-one with Will on Red Table Talk.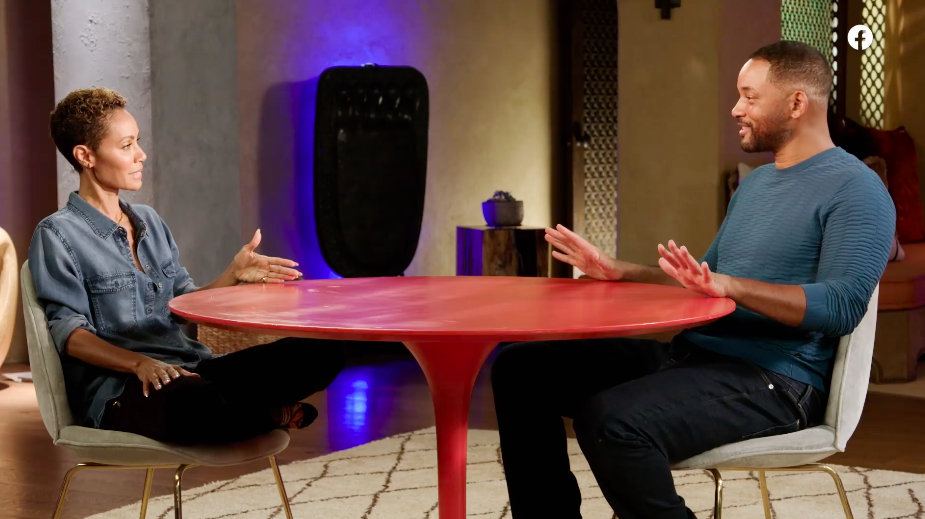 "I got into an entanglement with August. I was in a lot of pain, and I was very broken. In the process of that relationship, I definitely realised that you can't find happiness outside of yourself."
On the same Red Table Talk episode, Will says their marriage felt over at that point.  
"I was done with your ass. I was done with you," he says. "Marriages have that though. We decided that we were going to separate for a period of time and you go figure out how to make yourself happy and I'll try to figure out how to make myself happy. I really felt like we could be over."
But at the conclusion of their discussion, Will and Jada say their bond is unbreakable.
"We ride together. We die together. Bad marriage for life," they said, referencing a quote from Will's Bad Boys film series.
https://www.facebook.com/redtabletalk/videos/718425758995043/
2021: Will spills more details on his marriage to Jada in a candid interview with GQ, in which he seemingly confirmed the couple had an open marriage.
"We have given each other trust and freedom, with the belief that everybody has to find their own way," he tells the magazine. "And marriage for us can't be a prison. And I don't suggest our road for anybody. I don't suggest this road for anybody. But the experiences that the freedoms that we've given one another and the unconditional support, to me, is the highest definition of love."
Around the same time of the GQ interview, Jada admits on her Facebook series that it's difficult to maintain a good sex life after 24 years of marriage so communication is vital.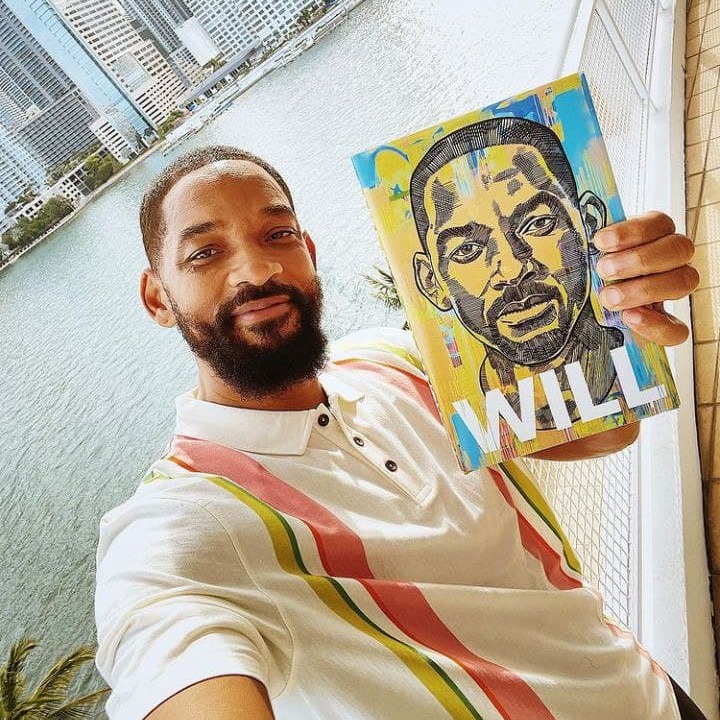 "It's hard," she says while discussing sex on the show. "The thing Will and I talk about a lot is the journey. We started in this at a very young age, 22 years old… I think you expect your partner to know [what you need], especially when it comes to sex. It's like, 'Well, if you love me, you should know. If you love me, you should read my mind.' That's a huge pitfall."
Will begins promoting his upcoming memoir, Will, in November. In early excerpts of the book, Will opens up about the "spectacular" sex they had when they first started dating.
"We drank every day, we had sex multiple times every day for four straight months," he says while reading a passage on Apple TV+'s The Oprah Conversation.
"I started to wonder if this was a competition. Either way, as far as I was concerned, there were only two possibilities: I was going to satisfy this woman sexually or I was going to die trying."
For a daily dose of 9Honey, subscribe to our newsletter here.